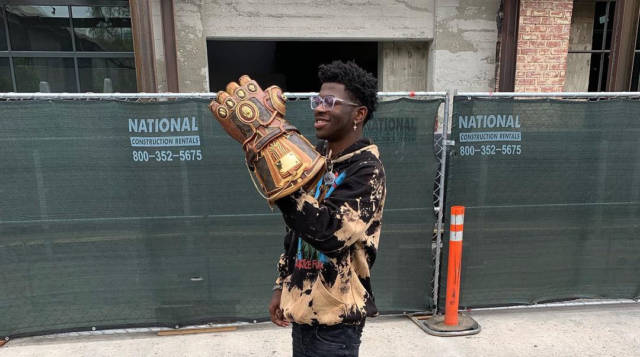 Man, if you thought country music fans were mad about Lil Nas X being on the Country chart despite being black, wait until they find out he's also gay.
Just after his performance at Glastonbury, Lil Nas X made this tweet that seemed to be him coming out as gay. Or bi, we'll get to that later.
some of y'all already know, some of y'all don't care, some of y'all not gone fwm no more. but before this month ends i want y'all to listen closely to c7osure. pic.twitter.com/O9krBLllqQ

— nope (@LilNasX) June 30, 2019
It's pride month, there's a rainbow, the connection is pretty obvious.
He followed that up with this.
deadass thought i made it obvious pic.twitter.com/HFCbVqBkLM

— nope (@LilNasX) June 30, 2019
And then he started getting silly.
it's true i am a guy https://t.co/7hsG0TEm8i

— nope (@LilNasX) July 1, 2019
But you're also reading a little too much into what he said.
old town road is literally about horses.

— nope (@LilNasX) July 1, 2019
Remember before when I mentioned he might be bi?
just cuz i'm gay don't mean i'm not straight

— nope (@LilNasX) July 1, 2019
Just use the word biexual, people know what it means. There's nothing that drives me crazier than some 20-year-old sipping a $5 bottle of white wine going "I'm not into labels, I just like people and not bodies, you know?" Just say you're fucking bi. If it was good enough for David Bowie it's good enough for you.
That wasn't actually aimed at Lil Nas, it was aimed at some bitch named Becca or Tawney who's really into crystals.
Unrelated, Nas also cleared up how to pronounce his new single 'C7osure'.
csevenosure https://t.co/auEVyrHqwh

— nope (@LilNasX) July 2, 2019
I like this dude, gay or bi, he's got a sense of humor.
TMZ had a little inside information on his decision.
We're told he wanted to tell everyone he's gay, but his hesitation is that he doesn't want to become "the poster child for the LGBTQ community" … at least not yet. He's 20 years old and has only been famous for a few months, and as one source put it, "Everything's happening so fast his head is spinning. He may become a leader in gay rights, but not quite yet."
Our sources also say Lil Nas X feels he can be a role model for other young people who are scared to come out. He believes this will not hurt his career and will give others inspiration.
As for Miley and Billy Ray, we're told they're "thrilled" he's come out and they fully support him.
Yeah, that's a lot of pressure. Just let the man enjoy life for a while.
The post Lil Nas X Comes Out on the Last Day of Pride Month appeared first on The Blemish.