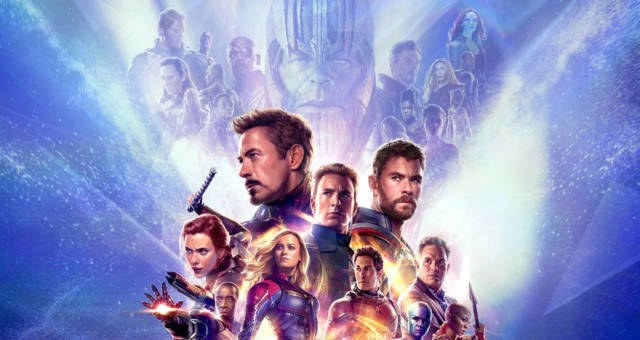 Hey, have you seen enough Marvel movies yet? There have been like 25 so far, you know. And they're creeping up on four hours long. Still, people tend to like them. Avengers: Endgame just became the highest-grossing film of all time, presumably because the opening-night showings just let out and people were able to buy tickets to watch it a second time.
This weekend was Comic-Con, and the big event was Marvel's Hall H presentation that laid out their roadmap for Phase 4, a timeline that started by showing ten dates for releases in the next two years. Yeah, you think about what you've done by never shutting up about the first Iron Man movie and how cool the Nick Fury cameo at the end was.
MCU's Phase 4:#BlackWidow May 1, 2020#Eternals – Nov 6, 2020
Falcon & The Winter Soldier – Fall 2020#ShangChi – Feb 12, 2021#WandaVision – Spring 2021#Loki – Spring 2021#DoctorStrange – May 7, 2021#WhatIf -Summer 2021#Hawkeye – Fall 2021#Thor – Nov 5, 2021 #Blade – TBD pic.twitter.com/wMiBd1q6BQ

— Rotten Tomatoes (@RottenTomatoes) July 21, 2019
Luckily, half of these are TV series you'll have to watch to follow along with the movies, conveniently located on Disney+, which Disney really wants to work.
Let's look at what movies are on the schedule. First up is the long-rumored Black Widow, where Scarlett Johansson plays a corpse at the bottom of a mountain for two hours while explaining why she wasn't wrong to take this role from an actual corpse.
This official new #BlackWidow keyframe concept art offers the first look at the MCU's Taskmaster!

(via @andyparkart) pic.twitter.com/PaUfzGzco3

— MCU Direct (@MCU_Direct) July 21, 2019
The Eternals is next, a film that has Kumail Nanjiani in it because apparently everyone else in Hollywood has already been in a Marvel movie. I mean, Kumail is a pretty funny stand-up and a really nice guy, but I didn't really believe him when he played Kumail Nanjiani in The Big Sick, I'm supposed to buy him as a superhero now?
The first official photo of #TheEternals cast! #MARVELSDCC

Via @EW pic.twitter.com/wnYOVRFHdr

— Geeks of Color (@GeeksOfColor) July 21, 2019
Then we've got Shang-Chi and the Legend of the Ten Rings, which is about an Asian guy no one has ever heard of who ends up with ten different fiancees. Actually, remember The Mandarin and Ten Rings from Iron Man 3, the thing that ended up being a hoax and didn't really exist and was just Ben Kingsley on opium? Well, it exits now.
The cool thing about this is that Simu Liu, who is playing Shang Chi, had tweeted Marvel years ago saying he wanted to play Shang Chi.
Thanks for getting back to me https://t.co/FFRuM03p20

— Simu Liu (@SimuLiu) July 21, 2019
Doctor Strange and the Multiverse of Madness is the next film and will see Strange team up with the Scarlet Witch. Which means you better watch that WandaVision show if you want to follow the plot. Only on Disney+. It's called vertical integration, get on board. We can't have exponential growth if you're only paying $15 for a movie 3 times a year, we need you to also subscribe to our TV service.
It's been confirmed that Scarlet Witch will have a main role in DOCTOR STRANGE IN THE MULTIVERSE OF MADNESS! pic.twitter.com/KOf30xdC6V

— MCU Direct (@MCU_Direct) July 21, 2019
Finally there's Thor: Love and Thunder, which completes the transformation of the Thor logo into Masters of the Universe. Marvel and Taita Waikiki have been hyping up Natalie Portman's return as Jane Foster and saying she'll be playing Lady Thor. Remember when I said Disney likes to use outrage to market things? This is one of those things.
Just announced in Hall H at #SDCC, Marvel Studios' THOR: LOVE AND THUNDER with Chris Hemsworth, Tessa Thompson and Natalie Portman. Taika Waititi returns as director. In theaters November 5, 2021. pic.twitter.com/7RRkOYWTQM

— Marvel Studios (@MarvelStudios) July 21, 2019
The "Jane Foster as Thor" storyline in the Mighty Thor comics met with a mixed reception: sales were decent, enough to keep the book in the top 50 while it was being published, but it also attracted a lot of criticism for being poorly written. Because it kind of was. I was not impressed with it at any rate.
But it doesn't matter, because Natalie Portman is probably going to "be Thor" for about as long as Captain America was in the last Avengers movie, which is to say for one scene in the climax fight scene. She will not "be Thor" in the denouement. But we've got a good two years of people getting mad about it and people getting ad at those people and the whole time hey, shock, lots of free mentions of the biggest movie franchise in history, owned by the biggest media conglomerate in the world.
Also, at the end of the panel, they quickly announced Captain Marvel 2, Fantastic Four and X-Men films were in the works. Then they brought Mahershala Ali onstage and announced he was playing Blade, a character previously played by Wesley Snipes.
So…Mahershala convinces Nic Pizzolatto to rewrite the third season of True Detective to cast him as lead, THEN he calls Marvel honcho Kevin Feige to TELL him he's playing #Blade? I think we have a new model for getting diversity in Hollywood! And I have a new hero. #BladeMCU pic.twitter.com/CfTwQ6jbZo

— Eric Deggans at NPR (@Deggans) July 21, 2019
There were also a bunch of TV show announcements for Disney+, but let's be realistic here; these are things they couldn't sell as 2 hour movies so they're expanding them into 8 hour TV shows. That's four times as much of the thing you were only peripherally interested in! You can't beat that value.
The post Marvel Gave All Their Phase Four Plans At Comic-Con, They're Surprisingly Still Sticking With the Superhero Thing appeared first on The Blemish.