When it comes to mommyhood, sisters Hilary and Haylie Duff are grateful they have each other to lean on.
"Somebody [asked me], 'What is the best advice that Hilary has given you as a mom?' and it's like, it hasn't been advice," Haylie, who welcomed daughter Ryan Ava with fiancé Matt Rosenberg in May, tells PEOPLE.
"She's been there to support me," Haylie says of her younger sister Hilary, who's mom to 3-year-old son Luca Cruz. "Whether I just want to cry for a minute or I just need her to hold [Ryan] for a second or whatever it is, she's just there to support me in any way she can. I think that's probably been the most important thing for me so far."
Now, the sisters have joined Similac's Sisterhood of Motherhood campaign, Sisterhood Unite, which gives parents the opportunity to share their stories and support one another.
"Instead of focusing on the judgment that we feel from other mothers, it's giving a place for moms and dads to sound off on each other and to join in on the conversation," Haylie, who shares she was judged for her birth plan and daughter's name, says.
Like her sister, Hilary also felt judged as a mom, which is why the sisters are encouraging other parents to share what they will do to stop the Mommy Wars with #SisterhoodUnite on Facebook.
"I felt judgment when people found out that I had an epidural or that after seven months of breastfeeding, I had to start supplementing with formula because I was going back to work and I wasn't making enough milk," Hilary recalls.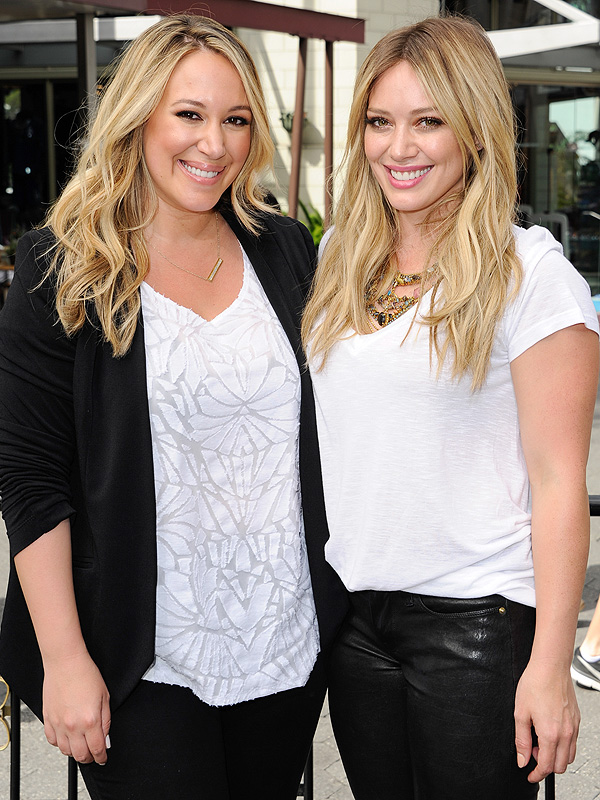 Noel Vasquez/Getty

The pair admits they couldn't be happier that their children get to grow up together as well.
"It's pretty awesome," Haylie, 30, says. "It was something that we've wanted since we were little — to one day have kids together — so we're pretty pumped."
Hilary adds: "I think that Luca is getting more used to the idea [because] he was the only baby for a while in the family. Once Haylie didn't have Ryan in her belly anymore, Luca was like, 'Wait a minute. What's happening?' … [But] when she's a little older and she's moving, and he can interact with her a little more, he'll be more interested. He's going to be cool with her. He's a nice kid."
As for Luca's latest milestones? Hilary admits her little man can pretty much "do everything."
"He's totally potty-trained and he's so pumped about that, and he's really into shapes," the proud mama shares. "Everything is a negotiation right now, but he's so strong and so capable. It's funny. [He's] just really changing every day."
But currently, Hilary says, he's "an outdoorsy guy, who loves racecars."
"He's so obsessed with Cars. All of the cars and characters from the Disney movie Cars, he's fully obsessed with, but I love that he's so passionate about it," shares the 27-year-old actress, adding "everything turns into a race track, somehow."
"He's [also] been really into nature. We go and feed ducks all of the time — not too far from my house — we'll take our old bread," she explains. "He's [also] been really into the turtles there."
And although Ryan is only 3 months old, Haylie admits her daughter has a "little personality" of her own "even though she's not talking yet."
"It's so funny because it's so weird to say that at just a couple of weeks old you see a personality," she says. "But she definitely is strong-willed, like if she's not ready for bed, she will not go to bed."
Not to mention, Ryan already has a personal fashion style.
"If I put her in something too babyish and girly, it looks funny on her," Haylie explains. "She wears bolder colors a little better than she does the little babyish things. I put her in a little ruffly baby thing the other day and I looked at her, and she looked like she was wearing someone else's clothes."
But now that Haylie is starting to go back to work, she says, "It's a good feeling to know that even as a little baby, [Ryan's] got a little independence in her."
"I was nine months pregnant on my cooking show and it was really important to me to be home with the baby and really do everything myself," the Real Girl's Kitchen host explains.
"Today's my first day really back working so I definitely had a little anxiety leading up to it," she continues. "But part of me is proud when I see her, when she arrives here, and she's happy and she's not hysterically crying, and she's not having a meltdown. That's encouraging to me because I do want to get back to work. I love my show."
Hilary — who praised her older sister on how well she handled her first day back to work — admits she's still trying to find that work-life balance herself.
"I think with me, going back to work, I got to ease into it slowly and that was good, but tough," the Younger star shares. "Mommy guilt is very heavy … you're not always the one picking them up from things or dropping them off."
"It's tough, but you have to make a living," she adds. "Eventually, that kind of stuff will pay off because your child will know that you worked hard for them to have a good life and [it will] show them a good work ethic for their future."
— Mariah Haas