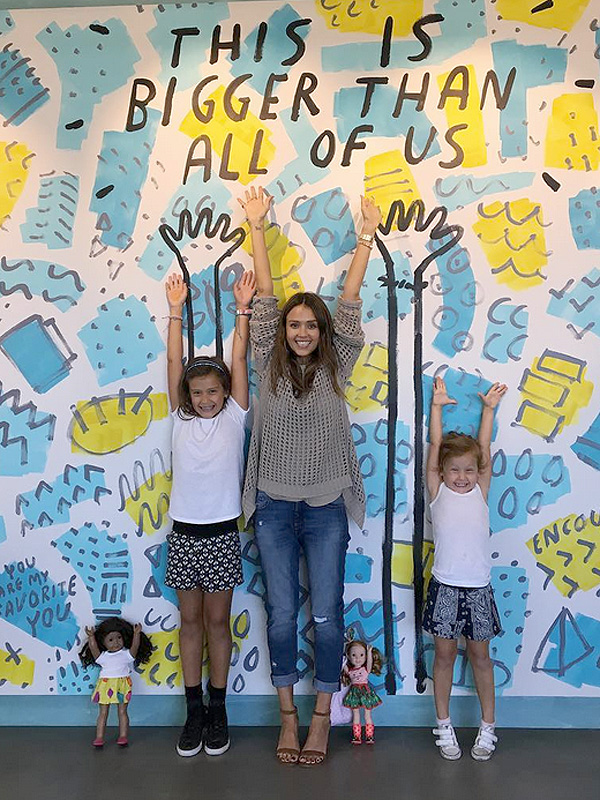 Source Instagram
As a mom, wife, actress and businesswoman, it makes sense that Jessica Alba would have daughters Honor Marie, 8, and Haven Garner, 5, visit her when she's hard at work — especially for the Honest Company.
"They usually come to my office and they see me at work a lot," Alba, 35, tells PEOPLE.
"They saw my first office, which was like 6,000 square feet and my next one, which was like 28,000 square feet, and my third one that we just moved into that's like 86,000 square feet," adds Alba, who is one of the business's co-founders.
"So they've seen the growth of the company and the amount of people that are there now.
Want all the latest pregnancy and birth announcements, plus celebrity mom blogs? Click here to get those and more in the PEOPLE Babies newsletter.
And the star admits that her daughter with husband Cash Warren are very inquisitive when it comes to her company.
"They like to ask me a lot of questions about it and how it all works," she says.
But even though her girls visit her pretty often while she's at the office, Alba says that when it comes to seeing her on a film set, they only visit "a little bit."
"For the most part, they don't really come," says the actress, who notes she hasn't "done a lot of movies since I've had them."
RELATED VIDEO:  Jessica Alba's 5 Style Tips!
However, when she filmed her latest movie — Mechanic: Resurrection — Alba did bring her younger daughter along while they were shooting out of the country.
"We just did some pick-up shots in Bulgaria for, like, two days," says Alba, who stars alongside Jason Statham in the action-thriller sequel.
She continues, "[Haven] just hung out in the trailer with another producer's daughter, who was her age, and they just played Barbies [and] watched Peppa Pig."
Mechanic: Resurrection is in theaters now.
— Mariah Haas