It sounds like Homeland fans aren't the only ones who know Claire Danes' famous faces.
While walking the red carpet at Saturday's Screen Actors Guild Awards, the mom to 3-year-old Cyrus Michael Christopher joked spending time with her son includes plenty of silly expressions.
"I just hang out with him and make dumb faces, which is what I do for a living anyway," Danes, 36, told E! News' Giuliana Rancic.
But other than her own successful series and husband Hugh Dancy's show Hannibal, Danes admits she's a little unfamiliar with the rest of the nominations — or any other Hollywood hits from the past few years.
"I barely am able to watch my own show, my husband's show," she jokes. "We took Cyrus to his first movie for his birthday in December, like a movie in the movie theater. We saw Peanuts and it was maybe my first movie that I saw in the theater since he was born."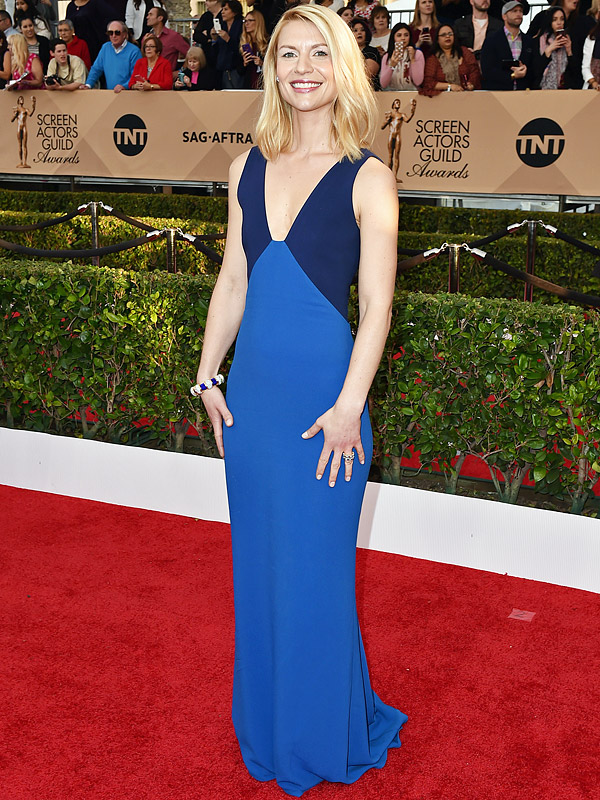 Jordan Strauss/Invision/AP
But Danes may soon catch a bit of a break: The cast is now shooting in her hometown and the busy mom can't wait to be back to her stomping grounds.
"To shoot in my hometown is ironically rather exotic and wonderful, so I'm really looking forward to that," she explains. "I'm stoked. I get to go home to my own actual bed."
Check out PEOPLE's full 2016 SAG Awards coverage and complete winners list!
Danes — who's nominated for outstanding performance by a female actor in a drama series for Homeland — is also preparing for her new role in the play Dry Powder, in which she will star alongside John Krasinski and Hank Azaria.
"It's a comedy, a social satire. It's very different in tone from Homeland, so it's a nice deviation. It will be fun," she says.
Homeland is also up for outstanding performance by an ensemble in a drama series and outstanding actor performance by a stunt ensemble in a comedy or drama series.
— Anya Leon