Stacy Keibler felt like she went through a war after giving birth to daughter Ava Grace at home last August, sans drugs. But she says it was the best kind of battle — and she'd happily do it all over again.
"I felt like we went to war together. I kept saying, 'Ava's a warrior. I'm a warrior.' It was one of my mantras that I would say. Then when she came out, I feel like we had this bond that we had just fought together," she tells Ricki Lake in a new video for The Business of Being Born.
Keibler, 35, credits the film with helping her and husband Jared Pobre make decisions about her pregnancy and Ava's birth.
"Watching The Business of Being Born changed everything for my husband and I," she says. "We really wanted to research midwives and wanted to learn as much as we could about doing things more naturally."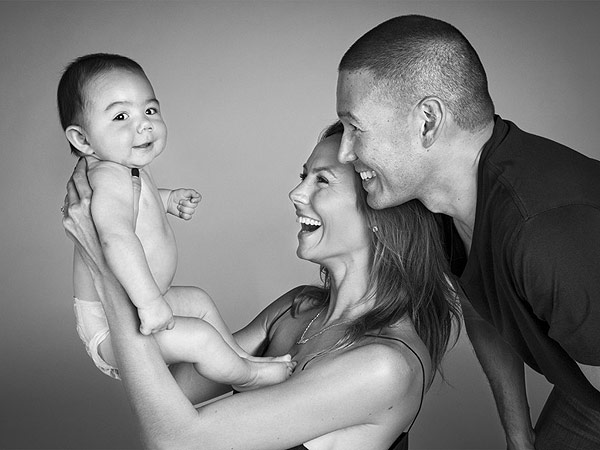 Classic Kids

Specifically, Keibler says she chose to stay extra healthy during her pregnancy, to give her the stamina she anticipated needing for childbirth. She and her husband chose a midwife and doula who had the "right energy" and says she also wrote up a two-page birth plan, with instructions on what to do if she was required to go to the hospital.
"If I had to go to the hospital, they pretty much couldn't do anything unless it was an emergency situation," she recalls. "I just want to help educate other women out there because there's so many choices I didn't realize I could make."
The actress and model's choices were put to the test even before she went into labor, with the baby being overdue and her OB suggesting induction. With the support of her midwife, Keibler says she knew she would not choose to be induced.
Ultimately, Keibler says labor lasted 19 hours, "and for 12 of those hours my water hadn't even broken yet."
To combat the pain, she repeated mantras and tried to visualize herself with her baby in her arms.
In the end, not everything went exactly according to plan, but Keibler chalks that up to a perfect introduction for her journey ahead.
"I really think it prepared me for motherhood," she explains. "You're going to go through a lot of things you don't expect. I had my weakest and strongest moments. I'll have those again being a mother."
— Kathy Ehrich Dowd