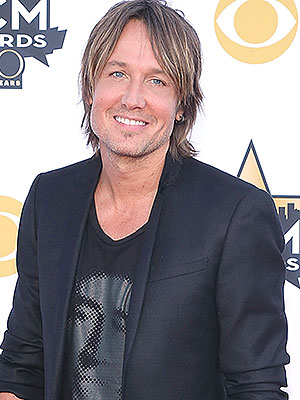 Gary Miller/FilmMagic
Keith Urban is off tour and in between seasons of American Idol and enjoying some downtime this summer.
But the country singer — who's gotten a handle on balancing work and family with wife Nicole Kidman — will have to take a break from his R&R for at least one concert this summer.
Urban, 47, will headline the first-ever PlentiTogether Live show, which he's co-headlining with Nick Jonas and Pitbull, in New York on July 19. (Fans can only enter to win tickets to the concert June 1-30 via sweepstakes at plentitogether.com.)
PEOPLE caught up with the country star on his favorite Nick Jonas song, his recent collaboration with Jason Derulo — and his thoughts on Kidz Bop!

PEOPLE: Do you have any favorite Nick Jonas or Pitbull songs?
Keith: I'm into "Jealous." I just love that song. What was really cool was we didn't know who it was when we heard the song, we just loved it — then we come to find out it's Nick Jonas. It's just really cool to see him step out of that band and have such success on his own right, it's really deserved.
PEOPLE: Will we ever see you and Pitbull collaborating down the line?
Keith: My hand would be way up for that! Absolutely. He's such a cool dude; I met him briefly at a thing we did in Vegas one time where there were a bunch of country artists playing, but we didn't get to perform anything like that. He just seemed like a super-cool dude.
PEOPLE: Switching gears a bit: We're all curious about next season of American Idol, the final season — do you know what we're in for and what surprises are in store?
Keith: Yeah, it's really bittersweet. It's sort of surreal to see the end of this era for such a … it's a pop icon, in so many ways. I'm glad we get to go out with one big, massive, final season. And who knows! You can't have a reunion tour until you have the farewell tour, so we'll see what happens.
It's gonna be a huge year. I think we're gonna get swarmed with people wanting to audition for it because if ever there was a season that's going to have an enormous amount of attention, it's gonna be this final one, so to be not only part of the journey as a lot of artists are going to be — but to be able to win it is gonna be pretty phenomenal.
PEOPLE: I love Jason Derulo's new song "Broke," with you and Stevie Wonder. How did that happen?
Keith: Well, first of all, I love the song. They sent me the song … I play a six-string banjo, it's kind of affectionately called a "ganjo." It sounds a little bit different from a traditional banjo, and of course I play it flat-picking style instead of finger picks. I've just got a particular style of playing.
His people just sent me the song and asked if I'd be interested in putting some ganjo on it to see what it sounds like, and I loved the track when they sent it. Stevie's part wasn't on it yet, so I just heard the basic track with Jason singin', put down a whole bunch of different ganjo tracks at my house in Nashville and then sent them what I'd done. And I didn't know whether they'd use it or not, so when I finally heard the end result and Stevie's part on it, it just blew my mind.
PEOPLE: What do you and the girls have going on this summer? Any vacations planned?
Keith: We're actually on a bit of a vacation right now, and we just continue that for another week or so. And Nic's off, really for the whole summer, and then she's gonna start a play in London in September, October, November, so we're gonna be basin' out of there for about three months.
Everybody's just relocating and living in London for a little while, so I'm really looking forward to that because I love London. Of course, I've got a lot of shows on and the Idol auditions are gonna start, so I'm gonna be going back and forth from London pretty regularly, so we've got a busy year ahead of us.
PEOPLE: What does the family like to do for vacation— road trips, or are you a beach family?
Keith: We definitely love the beach. That's a big part of what we've always done as a family. I think when you're from Australia, everybody's pretty coastal in Australia, so I grew up on the beach, Nic grew up on the beach, and our daughters, [Sunday and Faith] are 6 and 4, we got them swimming lessons right away when they were like 2, so they both swim great.
But really any time we can just be together feels like a vacation to us, just being at home is bliss. So Nic and I have no problem switching off and getting off the grid very quickly. (Laughs)
PEOPLE: The girls are a little young, but are they big Nick Jonas fans? I guess they're a little young for the Jonas Brothers days…
Keith: It was so funny because the Kidz Bop touring act came through Nashville. I saw it in the paper and was like, "Oh, we gotta go see that! They're gonna love this!" And it's so funny: I said, "Hey, I'm gonna get us some tickets down to Kidz Bop." And Sunday, she's 6½ — she's like, "Ahh, I think that's for little kids, Dad." And I was like, "Umm, I think you and your sister are gonna be among the younger ones there, actually. I think you're gonna have a blast." I don't think she knew what she was getting into! And so we, Nic and I, took 'em along.
They just had the BEST time, singin' along to every song. But the funny part was, of course, they've got to tweak all the lyrics, you know? So when they do "Jealous" by Nick Jonas, they couldn't sing stuff like, "You're sexy, beautiful." They had to say, "You're so cute, you're beautiful." And they couldn't sing "Everybody wants a taste, that's why." (Laughs) So they were singin' [breaks out into song]: "You're so cute you're beautiful, everybody wants you, too, that's why…" (Laughs) Ultra-G-rated, and I was just having a whale of a time. It was a blast.
— Jeff Nelson